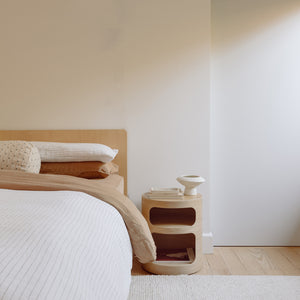 At Plyroom we believe in living well, simply.
We create and curate furniture, storage and special objects that shape spaces where memories are made.
We seek to create a small but considered range of beautifully designed, consciously made products. From flexible furniture that can adapt to changing needs to beautiful accessories that provide pleasure in simple rituals, the products we design and choose are always bound by a simple mantra that they be understated and thoughtful to encourage a simpler way of living.   
Plyroom was born in 2013. 

Our early days began with the basics, furniture that fit this notion of effortlessness and quality. Based in Melbourne whilst working with talented designers in Italy, the collection drew inspiration from the need to simplify.
Today, we work with a number of small-scale designers and makers, both in Italy and in Australia. We work with people who are as passionate about quality and the origin of materials as we are. Pieces are designed and made using a mix of traditional and highly technological methods. All materials are sustainably sourced.
We believe that the longevity of an item comes from intentional design as well as quality, sustainably sourced materials. Our furniture is made from timber and protected with non-toxic, durable finishes that are safe for you and safe for our environment. We strive to find better ways to design, make and deliver products that are conscientious in the way they are born and the effect they have on the world around them. 
Plyroom pieces are designed to sit quietly in your home. We take inspiration from the restrained formal language of mid-century modernism and the purposeful approach of Shaker furniture. Each piece in the our collection is functional and adaptable to ensure it becomes a treasured part of the lives that surround it for years to come.